~ Jackson Raine ~
Photo from SapphireMage's Jackson Raine Fan Site.
Jackson Raine is the excellent actor who plays Tao. Many a BeastMaster fan is that way because of Mr. Raine and his role as Tao. Part of the appeal is Jackson's obvious good looks. For example, I have not seen eyes as striking as his in another person.
More than that, Jackson makes Tao better than the mere sidekick. A less-abled actor would take the lines that Tao has and portray him as an annoying know-it-all. Because Tao has had to grow over the season, Jackson has had to keep his acting skills sharp to be able to show us that character growth, and he does. The best compliment to Jackson is that Tao seems a deep and multi-faceted real character and not a shallow cookie-cutter action side-kick.
Not much is known about Jackson, but very dilligent fans are working to change that! If you want information, see the original (if unofficial) Jackson Raine Fan Site. This site is the first Jackson site on the Internet and JR (as we fans call him) has even contributed some of the photos and scans himself. If you sign the guestbook he may read it, too!
News: A Jackson Raine official site is in the works. Please stay tuned for the URL and information!
Jackson trivia: His birthday is February 24.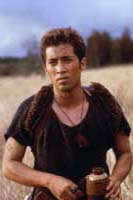 Photo from Alliance Atlantis Media
---
Keeper of the Mydlands
Back to the Mydlands for more BeastMaster
Disclaimer: BeastMaster, its characters and images are the property of Tribune Entertainment.
This BeastMaster fan site is my own work, © Keeper of the Mydlands.