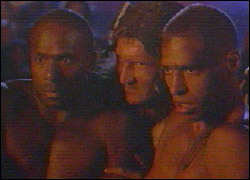 Photo from www.dars-home.com.
A Simple Truth
---
Dar: Follow me.
Feno: Why?
Dar: ĎCause you need more than a plan. You need help.
---
King Zad: The Mydlands. Slaves and thieves come from the Mydlands.
---
Kyra: Any life is worth more than an unfair death at your hands.
---
Feno: Iím ready.
Tao: You donít look it.
Feno: Iíve killed bears with less.
Tao: They must have been asleep!
[Dar and Tao giggle.]
---
Dar: Killing doesnít make a man anything! You go after that Terron...you go alone.
---
Tao: Take my advice. Itís better to be out here with Dar than alone.
---
Sorceress: If you want to punish someone, make them suffer, you need to know what they value, and then take it away.
---
Ancient One: Strength comes from the knowledge of weakness.
---
Feno: The Terrons took two of my friends. Are they still alive?
Kyra: Iím sorry. King Zad promised them freedom. The only freedom he gave them was freedom from this life.
---
Tao: As long as you seek revenge against your enemies, youíre a prisoner of your own rage.
---
Feno: Tell him I found what I was supposed to be looking for. A simple truth.
Tao: And what was that?
Feno: You donít have to kill to be a man... or a warrior.
---
Sorceress: Teach me, Kyra. Teach me about this emotion love. It possesses humans--makes them weak and gives them strength at the same time. What is it?
---
Go back to the main Quotes page.
Keeper of the Mydlands
webmaster@beastmasterfans.zzn.com
Back to the Mydlands for more BeastMaster
Disclaimer: BeastMaster, its characters and images are the property of Tribune Entertainment, © 2001.
This BeastMaster fan site is my own work, © 2001 Keeper of the Mydlands.