Dylan Bierk casts her spell on the Land Before Time as a new Sorceress. Dylan has been seen in "Relic Hunter" and "DC" and will make her first appearance on BeastMaster in the second half of season 2.

King Zad won't be the only bad guy in the Territories next season. Evil now has a younger face - that of the sinister Boy King. David Paterson will portray the bloodthirsty Nord king, who uses metal weapons to slaughter the Terrons. David has an extensive theatre background.

Sam Healy and Danielle Spencer will play the dual faces of Iara, a deadly serpent demon. Able to transform herself into a beautiful seductress or a venomous snake, Iara sets her reptilian sights on Dar in Season 2.

Both Sam and Danielle are talented and experienced actresses. Sam starred in the hit Australian television series "All Saints" and was trained at the Queensland University of Technology, Academy of Arts. Danielle appeared in Paramount's "Mission Impossible" series and in CBS' "How On Earth."

Dar will finally meet his match in season two when he encounters a fierce, sultry mercenary named Arina, played by Marjean Holden. A former model, Marjean has been featured in a number of films, including "John Carpenter's: Vampires" and "Speed II: Cruise Control."
Pictures of the New Cast in Action
Sam Healy as Iara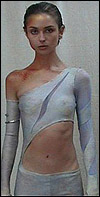 Marjean Holden as Arina